Watford, 03.12.19
New and existing Rapida 106 users were the recipients of this year's annual 1814 Production Excellence Awards. DG3/Leycol who installed a Rapida 106 5 plus coater in May 2019 picked up the award for commercial print for 3 jobs and Offset Printing and Packaging picked up the packaging award for 2 jobs produced on their Rapida 106 6 plus coater with simultaneous plate changing which was installed in June 2017.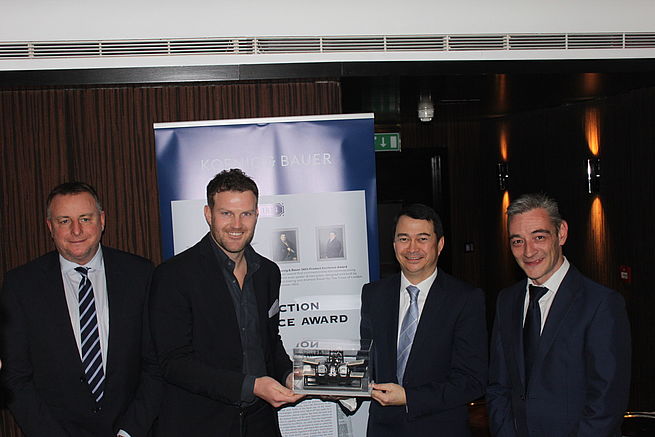 Commercial printing award
The 3 jobs submitted by Gillingham's DG/Leycol; a high end wine society brochure and 2 other high quality brochures for publishers, with one featuring 2 different languages. The wine society brochure was produced in 5 .16 hours, 66% faster than the last time it was produced on a 12 colour perfector press. The other 2 jobs brought net running speeds of 17,683 sheets per hour and savings in production times of 49% and 31% respectively.
All 3 jobs were produced to the I.S.O. 12647-2 standard; DG3/Leycol are one of a handful of companies who hold the BPIF's Colour Accreditation Scheme Elite Certificate which is independently verified by UKAS. The extremely low make ready and run waste levels on all the jobs (as low as 0.81%) demonstrates the high skill levels within DG3/Leycol and the fantastic colour control systems on the press.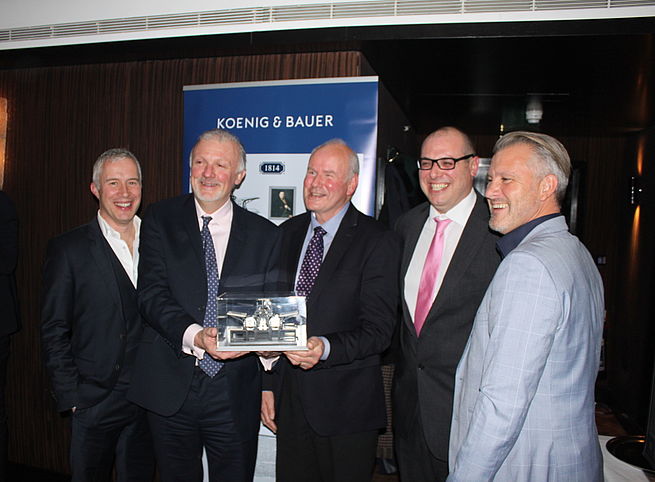 Packaging printing award
For the packaging award, Offset Print and Packaging of Aylesford in Kent produced 2 jobs; a range of high quality tea cartons and a mail order meal kit solution pack. The tea cartons produced on 450 micron Incada Excel material, which consisted of 18 separate conventional pantone inks and with water based varnish throughout. They achieved an average of 11 minutes make ready time throughout over 10 versions with 19 roller and ducts washes and an average waste count of 285 sheets.
The mail order meal kit selection pack was produced on 450 micron Scancote Elegance material and consisted of CMKY plus 2 pantone colours with matt emulsion and neutral varnishes. The run speed was 39% higher than estimated and the 5 make readies included 24 plate changes. The overall waste count for the jobs waste 2.4%.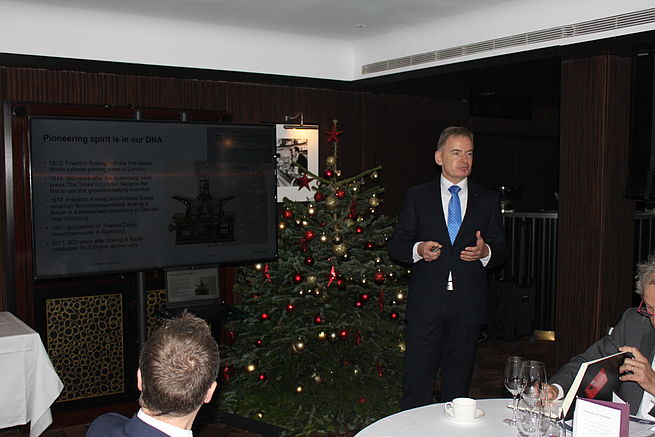 The event was held at London's prestigious Savoy Hotel and was attended by journalists from the major UK print trade publications. Koenig & Bauer (UK) Managing Director Andrew Pang welcomed all the attendees before inviting Koenig & Bauer Sheetfed's Vice President of Sales Sven Strzelczyk to present the latest developments within Koenig and Bauer. Following the presentation of the awards Koenig & Bauer's Vice President of Global Strategic Selling Andy Rae shared the insights he has gained since joining the company in the summer and went on to highlight the future potential for the company.
Koenig & Bauer U.K. Ltd Director of Sales Chris Scully stated: "We congratulate the staff and owners at both DG3/Leycol and Offset Print and Packaging with the quality of entries we had this year we felt that it was unfair to choose just one winner for the 1814 Production Excellence Award. There are significant differences in the methodology for producing commercial print and packaging and each discipline brings its own challenges. The performance of both companies was exceptional for their own sector and this is why we have taken the unprecedented decision to make two awards this year. However, what it does show is that the Rapida 106 will bring the highest performance levels to all of our customers whichever markets they serve."