Order includes seven colours, two coaters and extended delivery AVL3
Coaters equipped for both UV and conventional inks and coatings
AniSleeve technology enables 87 percent faster anilox roller changeover
VariDry Blue Technology enables energy savings of 30-50 percent
ErgoTronic ColorControl and QualiTronic ColorControl will optimise makereadies and reduce waste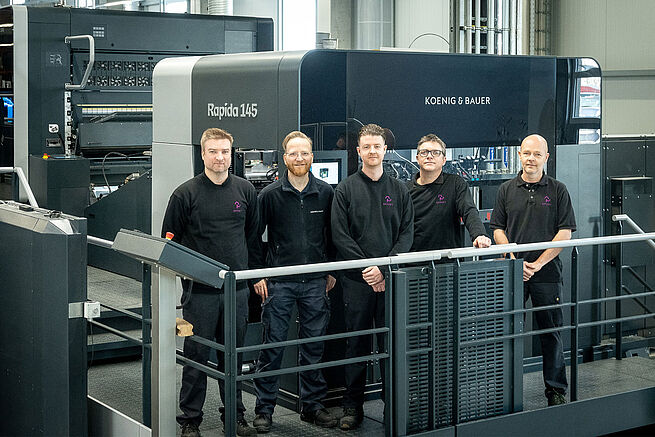 The UK's first new-generation Koenig & Bauer Rapida 145 has now been delivered and is currently undergoing installation at Offset Print & Packaging in Aylesford, Kent. The large-format press will be the fifth Koenig & Bauer installation for the bespoke carton specialist and by far its largest press investment to date.
Offset Print & Packaging ("Offset") has chosen a configuration which the company says will enable it to offer both high-street and luxury brand customers the next level of special finishes and effects. Comprising seven colours and two coaters, each coater has the capability for both UV and conventional inks and coatings.
"We have high-profile customers always looking for packaging finishes to make their product stand out. The Rapida 145 will vastly increase their options in terms of cost-effective production of highly decorative packaging, and on a large-format scale," comments Edward Bone, Managing Director of Sales at Offset Print & Packaging. "This is a serious investment, for a packaging company of any size, and it instils massive customer confidence in Offset as a company to be inspired dealing with."
As Offset's customers require maximum substrate flexibility, the new Rapida 145 features a board handling package that will accommodate up to 1.2mm thickness as well as Koenig & Bauer's unique side lay free S.I.S. (Sensoric Infeed System). To keep up with pile change overs and to reduce manual handling the feeder is equipped with a pile logistics system.
To maximise productivity and efficiency, the press has been specified with fully automatic plate changing throughout, while the two coaters are equipped with Koenig & Bauer's AniSleeve technology. This ensures that anilox rollers can be changed up to 87 percent faster than by a traditional crane system. The task can also be completed using only one operator, freeing up resources for other duties.
Tooled to guarantee the highest colour quality and consistency, the press is also equipped with ErgoTronic ColorControl and QualiTronic ColorControl. These are designed to deliver closed-loop inline measurement of ink densities and registration on every sheet, while Quality Pass automatically scores the results to ISO 12647-2 standards. The AVL3 Extended Delivery featuring VariDry Blue technology has been specified to enhance efficiency yet further. By recirculating still-unsaturated dryer air, VariDry Blue eliminates unnecessary heat input for potential energy savings of between 30 and 50 percent.
Preparing for the installation has been an extensive project in itself, according to Vince Brearey, Managing Director of Operations at Offset Print & Packaging, requiring a considerable facility upgrade, refurb and reorganisation of existing equipment.
"This investment has been over two years in the planning," explains Brearey. "As well as relocating two cut & crease machines to a new part of the factory, we have also had to remove a 40-metre-long mezzanine floor and upgrade the incoming electrical supply to the factory, alongside excavating and reinforcing the floor to accommodate the new 167-tonne press. All this while maintaining business as normal for our customers. It's a testament to excellent teamwork and communications internally as well as to our excellent working relationship with Koenig & Bauer."
The new Rapida 145 press is part of Offset Print & Packaging's ongoing investment strategy to equip for unrivalled capability across key formats and technology. To date the investments have included a new Rapida 106 six-colour plus coater, a Koenig & Bauer Iberica Ipress 145 K die-cutter with blanking capability, and an Omega Allpro 145 folder gluer from Koenig & Bauer Duran.
Koenig & Bauer UK Managing Director Chris Scully: "This promises to be a truly state-of-the-art installation once the project is complete, which is only what we would expect at Offset Print & Packaging. Over the years we have developed a strong, symbiotic relationship with Offset. Their strategy and objectives are very much in line with our own as they grow and develop their offering at an ambitious yet sustainable pace, integrating the very best technology available at every stage along the way. This latest investment truly sets them apart in terms of capability, and I know from experience, they will be ready to take full advantage of it from day one."