• The 5th Press from Koenig & Bauer
• New innovations and high build quality
• 87% faster anilox changes
• Additional special effects and finishes
Watford, 11.02.22
Offset Print & Packaging has returned to Koenig & Bauer to purchase a new style Rapida 145. The new press, dubbed 'The New Dimension in Large Format' features seven printing units plus double coating capability and makes Offset Print & Packaging the first U.K. company to invest in the stunning looking machine. This is also the fifth press the company has purchased from Koenig & Bauer and will replace their existing Rapida 142 6 colour plus coater.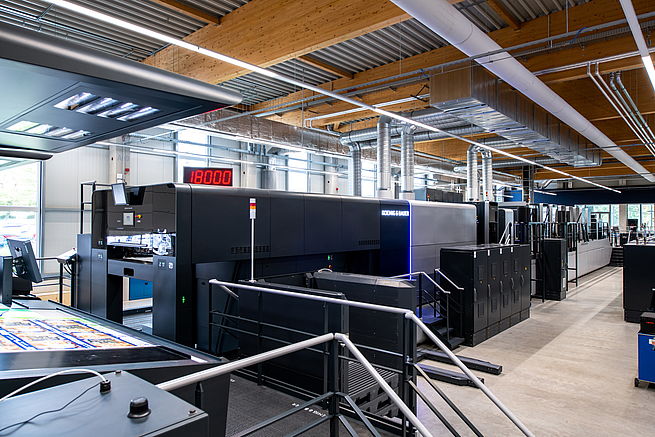 The new press, which is part of an ongoing investment strategy which has included a new Rapida 106 6 plus coater in 2017 and finishing kit including a Koenig & Bauer Iberica Ipress 144 K die cutter with blanking capability and an Omega Allpro 145 folder gluer from Koenig & Bauer Duran in 2020. This gives the independent Aylesford based company unrivalled capability across key formats and technology.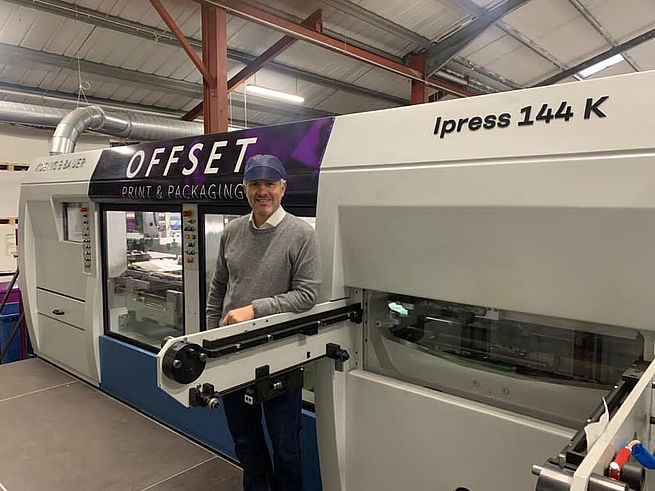 Speaking about becoming the first customer for the brand new Rapida 145 in the U.K. Managing Director of Operations Vince Brearey: "After seeing the new generation 145 on the live stream demo's during covid times and finally seeing it in the new Koenig & Bauer demo centre late last year we were very impressed with the new innovations and build quality. We choose to take another look in early February and decided there and then that this was the next press investment for Offset Print & Packaging ensuring we stay at the forefront of printed carton production and innovation."

The new press will be equipped with more than its stunning good looks, the configuration with fully automatic plate changing and 7 printing units and two coaters with capability for both UV and conventional inks and coatings adds another level of special finishes and effects to Offset Print and Packaging's range.

The 2 coaters are also equipped with Koenig & Bauer's revolutionary AniSleeve technology meaning that changing anilox rollers can be completed up to 87% faster than with a traditional crane system. The task can also be completed using only one operator freeing up manpower for other duties.
The feeding and delivery of the heavier range of materials is handled by a board handling package with a thickness range up to 1.2mm and Koenig & Bauer's ultra-reliable feeder and unique, side lay free S.I.S. (Sensoric Infeed System). To keep up with pile change overs and to reduce manual handling the feeder is equipped with a pile logistics system.
To meet Offset Print & Packaging's clients' needs for the highest quality of print, the press is also equipped with ErgoTronic ColorControl and QualiTronic Color Control for inline measurements of every sheet and Quality Pass for direct I.S.O. 12647-2 scoring from the colour control systems.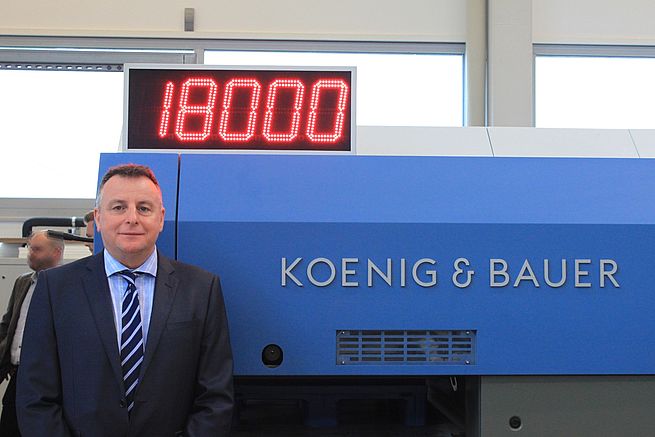 Koenig & Bauer UK Sales Director Chris Scully: "We are absolutely delighted that Offset Print & Packaging has become the first U.K. customer for the new generation Rapida 145. We have a long shared history and a very strong partnership, this investment is very exciting for us both. He continues: 'They have carefully invested in the right equipment, and crucially, at the right time which has led to their continued growth as a business. This latest investment truly sets them apart from a capability point of view and the additional coaters and print units enables them to stay one step ahead of the competition"