Koenig & Bauer 'can-do' central to success
Koenig & Bauer drying technology "years ahead of competition"
VariDry Blue Technology enables energy savings of 30 percent
DriveTronic SIS enables simultaneous plate-changing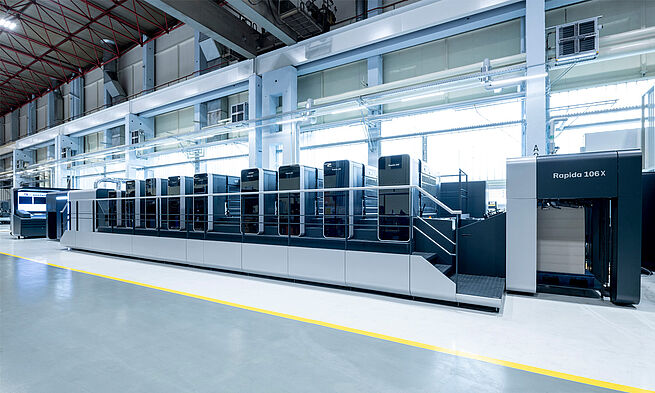 Installation is underway at Windles Group in Thame, Oxfordshire, of a new Rapida 106 X sheetfed offset press following its delivery ahead of schedule. As the company's first investment with Koenig & Bauer, the press marks a significant milestone in Windles' pursuit of a carbon neutral production process.
This press investment was driven by Windles' ambitious LOOP-IT scheme which encompasses a wide range of efforts and initiatives aimed at a more sustainable approach to producing high-quality printed products and packaging. The many energy-saving features of the 106 X were crucial to the choice and specification.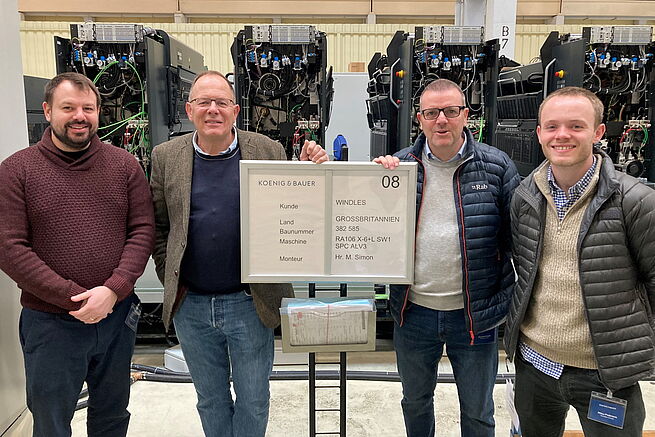 According to Managing Director Bruce Podmore, Koenig & Bauer was also the only press supplier keen to explore Windles' wish-list for a sustainable solution: "It was the can-do attitude of Koenig & Bauer that first impressed. They were positively enthusiastic and committed to working on this with us," says Podmore. "We are bound by our culture of environmental commitment, which is not negotiable. With other suppliers we came up against a blank 'this is what we offer' attitude. But Koenig & Bauer seemed to relish the challenge. As a machine man myself, they were speaking my language We even had the personal attention of Ralf Sammeck himself [Member of the Executive Board, Koenig & Bauer] throughout the project, as he felt personally so engaged with what we were trying to do."
The Rapida 106 X press for Windles will be configured as six units and one coater with a perfector after the first unit. Specified with the market-leading Koenig & Bauer Simultaneous Plate Change (SPC), all plates can be changed in 34 seconds, while an extended delivery with VariDry Blue technology means up to 30 percent energy savings in the dryer due to the recirculation of unsaturated air.
Koenig & Bauer's market-leading drying technology was especially critical to the decision, which Podmore asserts "is a good eight years ahead of the competition in terms of LED". The solution chosen involves four LED UV lamps with the flexibility to be positioned anywhere on the press and used in any combination to maximise efficiency and minimise energy consumption.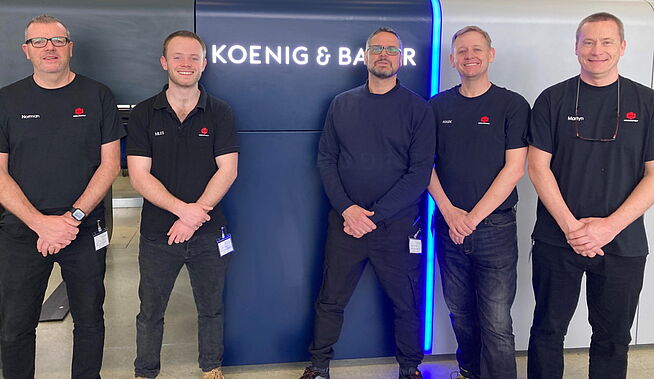 As it is important for the company to be able to offer customers flexibility of choice, the dryers can be used for both conventional and UV curing. Nevertheless, the company is increasingly finding that its sustainable offerings are proving to be draw for customers, especially in the greetings card business, which accounts for 85 percent of sales.
Koenig & Bauer's unique side-lay free S.I.S. (Sensoric Infeed System) is another important feature of this press, as Windles is frequently required to print "awkward" substrates for its customers. This gearless solution eliminates setup time on infeed as well as any risk of marking. It also reduces incidence of machine stops because the sheet does not come to a physical stop before entering the press. The DriveTronic SIS - Simultaneous plate changing including Paper Stretch Compensation offers an additional advantage when printing on challenging substrates through allowing the ability to fractionally slow an individual plate cylinder to improve the register.
Podmore is clear about the many positives from choosing Koenig & Bauer for the project. "Quality can no longer be a printer's main emphasis. It's not a differentiator - you need to be assured of good quality every time you roll the press," he states. "And with this press, we will now be able to do the same amount of work in half the time, using 35 percent less energy, while making it a much more pleasant place to work."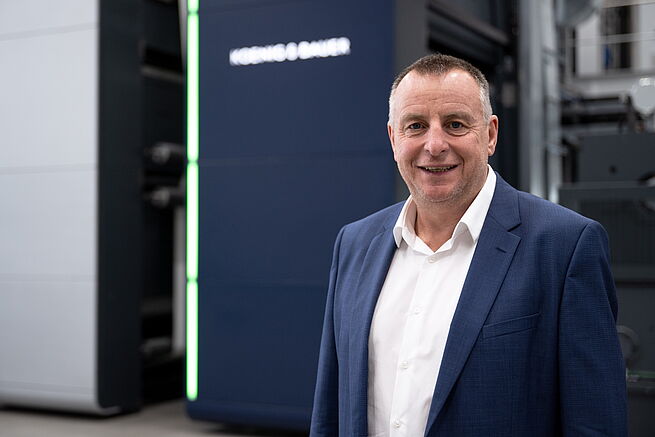 Chris Scully, Managing Director of Koenig & Bauer (UK): "This project has fired up everyone's imagination as it was a clean sheet from the beginning. Windles came to us with a list of things they wanted to achieve and an open mind as to how to do it," he says. "They are proven innovators many times over, from their biomass heating to waste management systems, consumables alternatives, to a private wind turbine. They have big plans for their eco business. Joining them on their journey has been a stimulating and enjoyable experience for us all and we feel very proud to be contributing to their success in this. I personally can't wait to see what comes next."