• No subscription or click charges required
• 'Easy decision' to meet growing demand
• Further growth and investment predicted
Watford, 05-09-19
Following the purchase of J Thomson Colour printers to form an impressive £30m turnover group, Bell & Bain have invested again in 2 New Rapida 145 Presses from Koenig & Bauer. The highly specified new presses, both perfectors, an 8 colour and a 4 colour, will be installed in Bell & Bain's Thornliebank site in Glasgow and will increase capacity to match the desired growth aspirations of the newly formed group. This latest investment will see the company pass the £20m mark in less than 24 months with 'not a click charge in sight'.
The company has now ordered a total of 36 large format units from Koenig & Bauer since 2004 including the milestone 3000th large format unit produced when they ordered their first large format 8 colour press during Drupa 2012. They also have 2 Rapida 106 presses, a 10 colour and a 6 colour LED press with a coater installed at the J Thomson Colour Printers site also in Glasgow.
Having been founded in 1831, Bell & Bain are one of the oldest independent book and journal printers with bindery facilities in the UK. Their prestigious client list includes: The Open University, Cambridge University Press and Oxford University Press for whom they print business, educational, scientific and medical journals amongst other products. The newly acquired J Thomson Colour Printers and 21 Colour produce print for financial educational and arts institutions giving the Bell & Bain group huge coverage in the commercial print sector.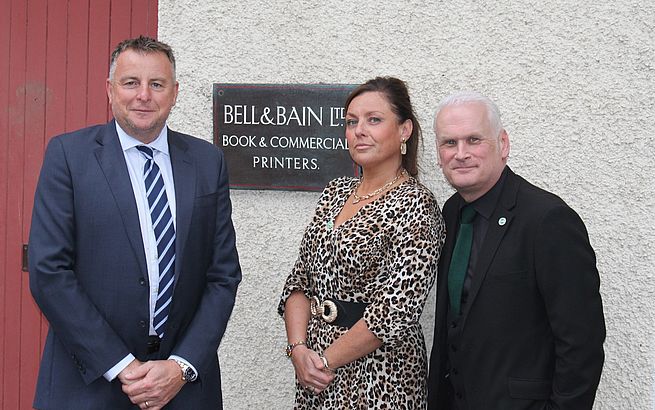 Bell & Bain Holdings Group Chairman Stephen Docherty states 'We already know what these machines can do so it was an easy decision for us. However, the investment is also to make life easier on my team here by removing some bottle necks created from an upswing in orders. Our customers are used to the highest of quality standards and now we will be able give our customers more of what they need and deliver for them when they need it.' On subscription and click charge purchasing models he adds: 'When we buy the machine we own it. We choose the finance and the products we want to buy from all our suppliers independently. We are making money to invest heavily and Bell & Bain has a vault of assets. Our model is solid as a rock'
On the projected growth of the company he states: 'We expect the extra capacity to be filled very quickly and turnover for Bell & Bain will zoom past the £20m hurdle. This should set the group up nicely to head towards £40m.' He continues 'We need to give our customers more and make things a little less stressful around the factory. Koenig & Bauer have helped us do this with ease over the years so that is why I can be confident in these investments.' He adds 'I have stated many times before that if Bell & Bain did not invest in a Koenig & Bauer press in 2005 we would not be here today. We have the can do attitude and we have the presses that can do also. This will not nearly be litho or almost the same, this will be the benchmark. This, of course, allows confidence to grow far and wide throughout the group and with our clients.'
Giving consideration to further investments to cope with additional output Mr Docherty states: 'We are investing continually and every penny we make I reinvest. These investments will be in machines, people and training. There will be further investments over the next year.' Speaking about the deal to purchase the presses he continues: 'I would like to thank Chris Scully of Koenig & Bauer for making this deal happen and keeping everything on track. I would also like to the Nick Aust of Close Brothers for his backing in making yet another dream come true. They are simply a great bank to work with and Nick is a very good guy.'

Performance and Quality
The new presses feature high speed packages giving them a top speed of 15,000 sheets per hour and Simultaneous plate changing (SPC) which allows them to change plates in 51 seconds, a 49% reduction from their last Rapida 145 press. The washing system, CleanTronic Synchro allows simultaneous washing of the blankets and impression cylinders and as these are SPC machines this can take place during plate changing process saving 43% against a traditional plate changing and washing systems.
Materials and colour control
For total paper control both presses are equipped with Koenig and Bauer's unique Sensoric Infeed System (SIS) which allows trouble and mark free production at the highest speeds. Colour control on both presses is via Koenig & Bauer's QualiTronic ColorControl which reads a full colour bar on every sheet and provides updates to colour values after every 10th sheet. This system provides waste savings of up to 60% when compared to offline systems and it makes 46% more measurements than other comparable inline systems on the market. The ultra-flexible QualiTronic and ErgoTronic control systems can control to both density and CIE Lab values providing Bell & Bain customers total reassurance that their work is produced to the highest quality on every sheet.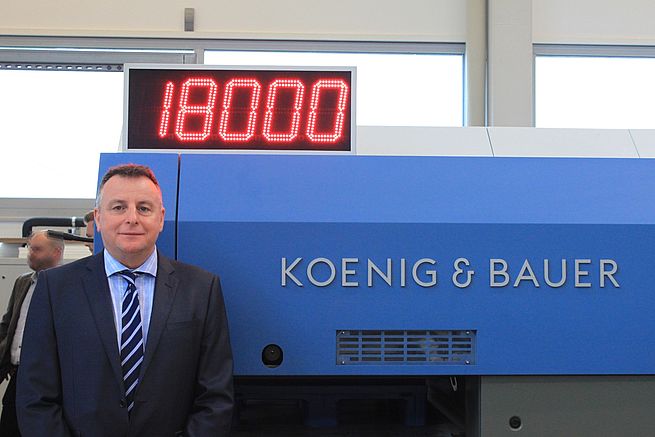 Koenig and Bauer (UK) Ltd. Sales Director Chris Scully states: 'We are delighted that Bell & Bain have placed their trust in us once again. We have a long history with the business and we have enjoyed watching them go from strength to strength with each investment decision they have made. With the bold acquisition of both J Thomson Colour Printers and 21 Colour they have become one of the largest commercial printers in the UK and have plans to grow even further. We are looking forward to seeing our Rapida 145 presses contributing to their future successes.
He continues: 'Bell & Bain are a fantastic real world reference for high quality industrial litho on demand; this traditional purchase model produces the highest levels of productivity in their sector balanced by criterion rate per copy. This investment bucks the current trends for click charges and subscriptions systems. He adds: 'In my opinion, this model clearly demonstrates that "Subscription model quick fixes" are a poor substitute for any customer right through the entire supply chain. Click charges are bad news for the industry as a whole as they allow unsustainable\ailing businesses in the short term to source high value capital equipment to disrupt the market with unsustainable business designs.