• Independently audited quality
• Colour managed and controlled
• Sustainable print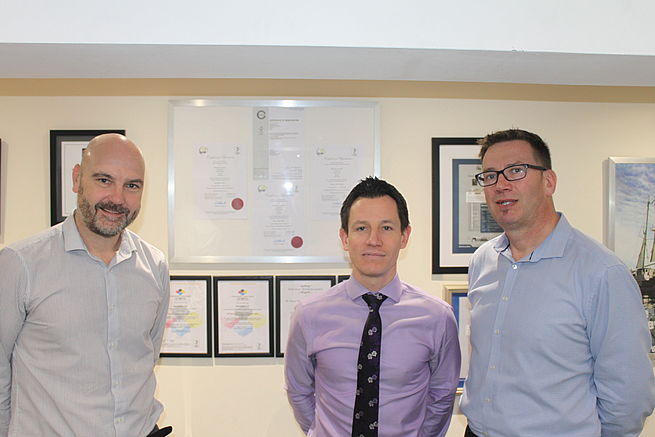 Watford, 03.03.2020
Rapida 105 LED UV user Blackmore has recently completed the rigorous testing process and achieved the prestigious BPIF Colour Quality Management Certification Scheme's 'Professional Certificate'. Whilst many schemes for colour measurement and control are used around the world, the BPIF version is one of a handful of schemes where there is a requirement to have internal processes assessed by a 3rd party auditor. In this case, UKAS are the chosen auditors which means that these certifications are globally recognised.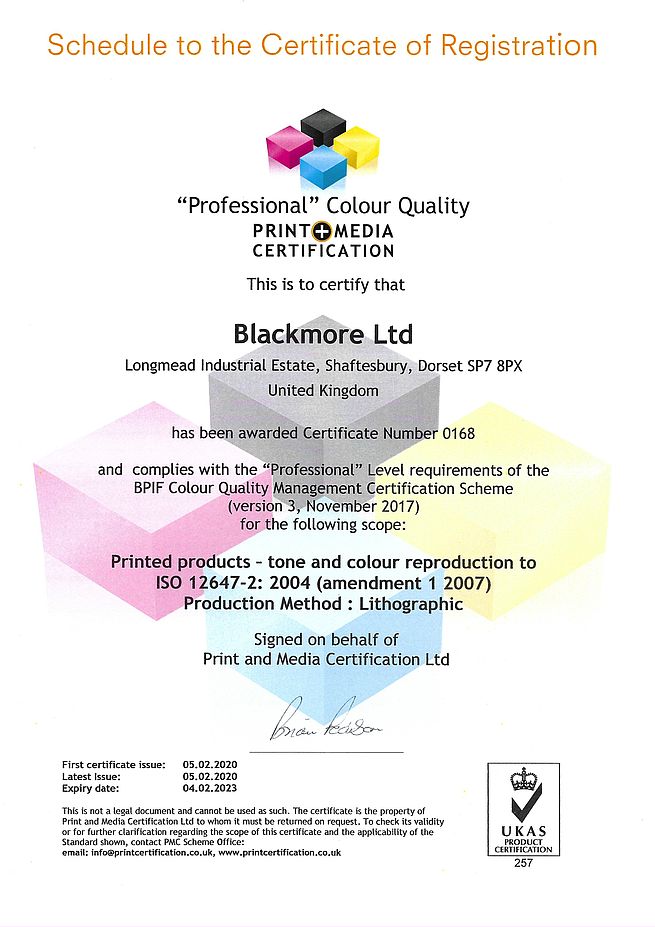 Describing the process, Production Director Nigel Hunt stated: "We understand that 80% of printers who apply for certification fail on the first audit due to the presumption that they would get some guidance during the assessment process. We were made aware that the auditor is there purely to observe the processes you have in place and provide feedback at the end. Therefore, we had to consult with a few suppliers in advance such as Sun Chemical's Kevin Purdy to ensure our processes were up to scratch. We already have great control of our colour management but this was an opportunity to re-evaluate what we do and I am delighted to say we passed in all areas."
Describing the process, he continues "The auditor takes sheets every 300 sheets during a 3000 sheet run and these form the basis of the evaluation from the print side of things. To keep the colour consistent we use QualiTronic ColorControl, the inline colour control system on the press. Additionally, we print using LEDUV on the Rapida 105 which means that we don't have to concern ourselves with the effects of dry back of the colours; an important requirement of the standard."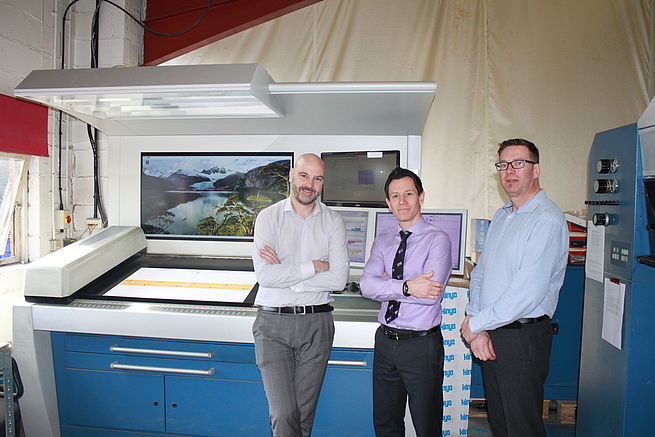 Blackmore Managing Director Andy Robbins states: "We have already received a number of enquiries in relation to our certification from new and existing clients. We have an excellent reputation for providing high quality print. However, for us to make the statement that we are an officially accredited printer rather than stating we are "working to the requirements of ISO 12647-2" is a real bonus for us and our customers." He adds "We have other accreditations for sustainability such as the Kodak Sonora Green Leaf Award and we have accreditations for ISO 9001, 14001, 18001 and we are also FSC certified.
Continuing on the subject of sustainability Mr Robbins adds "Our press is running zero alcohol and we use very little waste due to our colour management processes. Additionally, the press uses LEDUV drying which means we use a fraction of the power required to dry our sheets that traditional litho presses require. With this accreditation we can now offer the complete package of sustainable, and certified high quality print."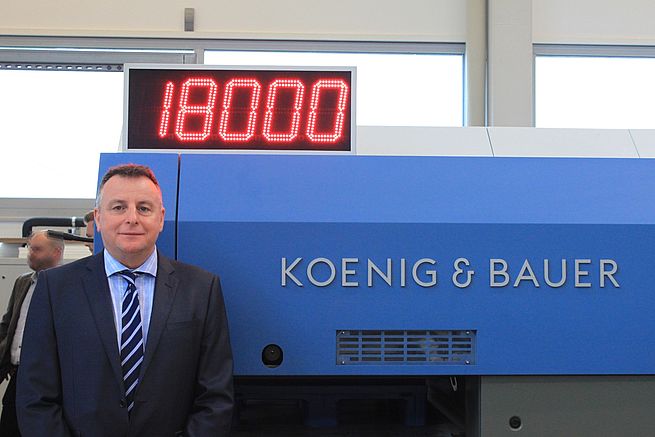 Koenig & Bauer UK Sales Director Chris Scully states: "We congratulate Blackmore on their recent successful audit and accreditation. Their print quality has always been first class and the fact that they have achieved this using the Rapida 105 LEDUV press and its colour control equipment makes us feel especially proud. They now join an exclusive group of Koenig & Bauer press users in the UK who have had their print output certified by an external auditor and passed with flying colours."